The ElectroMotion ESL X (EM-ESL X) X features a larger electrostatic transducer and dual woofers, with increased power-handling capabilities. As the flagship model of the ElectroMotion Series, the X establishes a new benchmark for price versus performance.
The ElectroMotion ESL X features a new larger XStat™ electrostatic transducer, with a radiating area over 50in2 larger than the EM-ESL model. Twin 8-inch high-excursion woofers are housed in a non-resonant asymmetrical bass reflex (ported) chamber, in a surprisingly compact enclosure. Woofers have custom engineered high-rigidity paper cones, with extended-throw driver assemblies. Component elements within the EM-ESL X replicate the design and performance of components used on many of MartinLogan's more expensive loudspeakers, such as custom-wound transformers, air-core coils, large steel laminate inductors, polyester and low DF electrolytic capacitors. Custom 5-way bi-wire binding posts allow for secure wire connections. System Frequency Response is 41–22,000 Hz ±3db. Recommended amplifier power is 20–400 watts per channel. Impedance is rated at 6 ohms (1.6 ohms at 20 kHz); the EM-ESL X is compatible with 4, 6, or 8 ohm rated amplifiers.
A unique XStat™ transducer was developed for the ElectroMotion Series to reduce the gauge thickness of the electrostatic panel's steel stators. The reduced gauge does not alter the performance characteristics of the panel. However, as a natural byproduct of tighter build tolerances, it does increase the visual transparency of the panel. The EM-ESL X's XStat panel is so visually transparent it nearly vanishes when you're sitting and listening.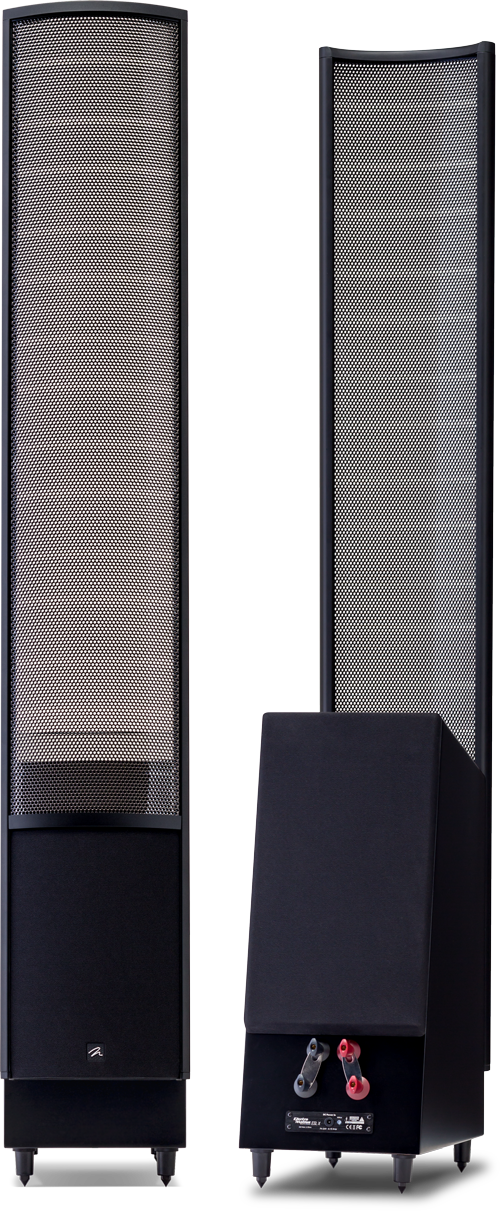 CLS™ XStat Transducer
One of MartinLogan's original breakthroughs, CLS™ (Curvilinear Line Source) technology, has been an essential ingredient of every electrostatic loudspeaker we've produced—and the ElectroMotion ESL X is no exception. Proprietary manufacturing methods enable construction of electrostatic panels as cylindrical sections. Their gentle horizontal curvature solves the problem of obtaining good high-frequency dispersion from a large radiating surface without compromising overall sound quality or reliability.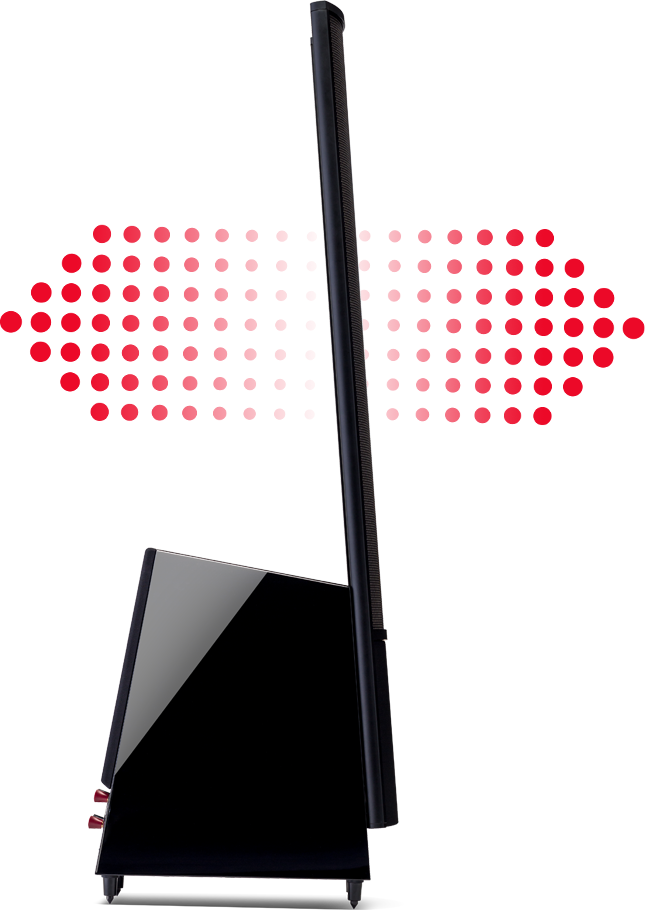 Another key attribute of the ElectroMotion ESL X is its naturally dipolar radiation pattern.
A true dipole, The EM-ESL X radiates sound with equal intensity from the front and back of its diaphragm, but the outputs are in opposite phase. As a result, sound waves rippling out toward the sides meet at the speaker's edge and cancel. That and the relatively large size of the ElectroMotion ESL X's electrostatic panel cause output at the sides to be very low relative to that of a conventional loudspeaker, which in turn minimizes side-wall reflections that tend to muddle sonic detail and stereo imaging. While the reduction in output to the sides contributes to the astonishing clarity for which electrostats are revered, the energy reflected off the wall behind the speaker opens up and deepens the sound.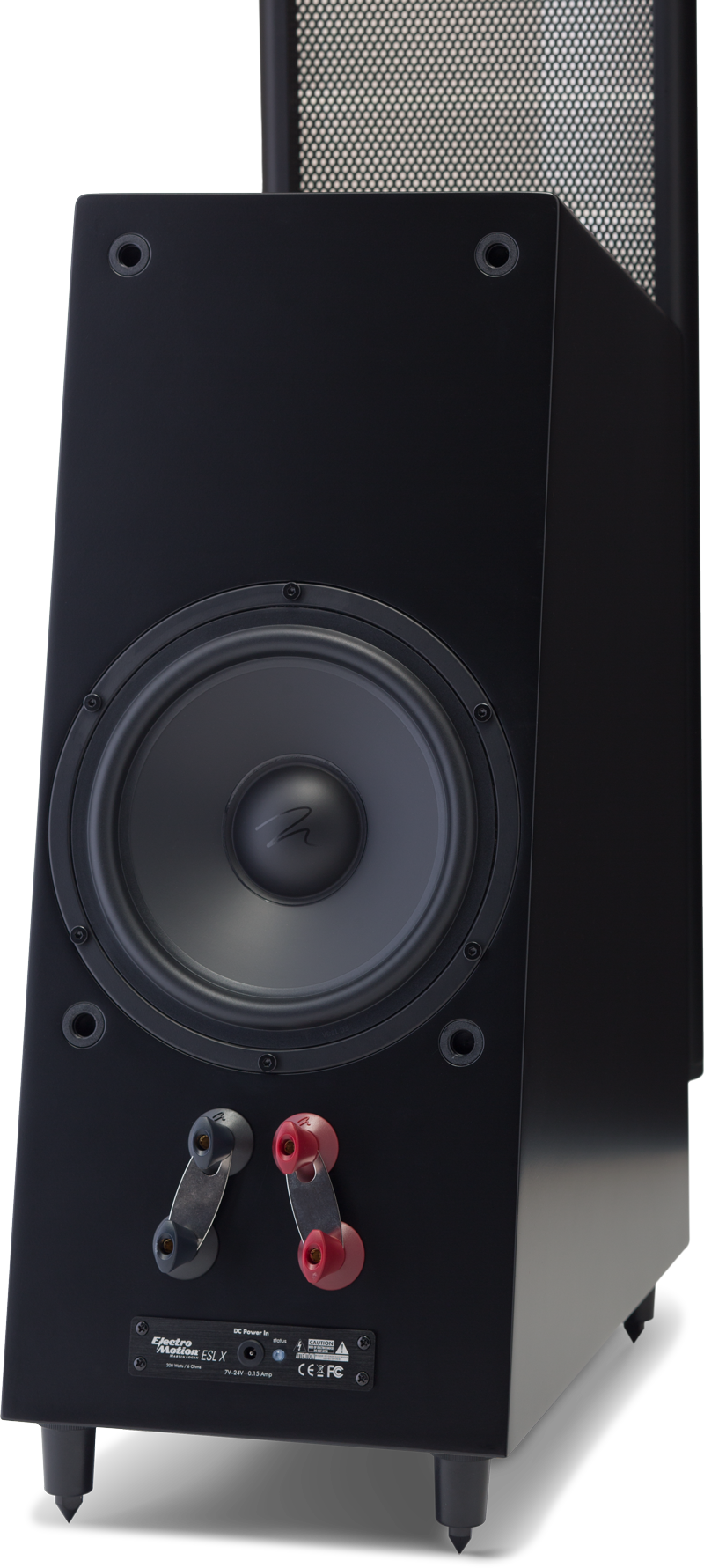 Superb Bass Integration
To seamlessly blend audio output from the high- and mid-frequency electrostatic panel to the low-frequency dual woofer system, the ElectroMotion ESL X features a proprietary Vojtko™ topology filter utilizing custom air core coil and low DCR steel laminate inductors, polyester film capacitors in series, and low DF electrolytic capacitors in parallel.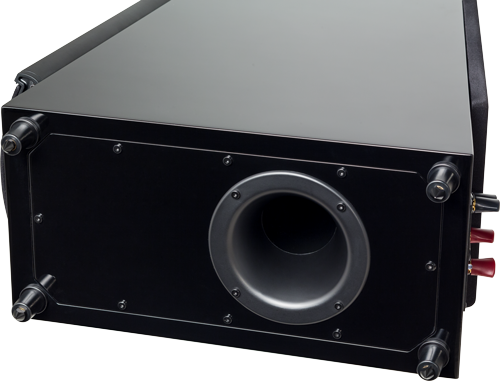 The EM-ESL X features dual 8-inch audiophile-grade, doped-fiber cone woofers custom designed by MartinLogan's in-house design and engineering team. This efficient woofer design optimizes cone suspension and the magnetic flux field to produce big bass output with vanishingly low distortion. Rigid and lightweight, the custom woofer's diaphragm eliminates cone flexure, and minimizes response time, to achieve levels of performance approaching that of MartinLogan's larger, more expensive electrostatic loudspeaker models.
Premium Connections, Solid Adjustable Footing
Custom 5-way bi-wire binding posts allow for secure wire connections. The EM-ESL X is supplied with sturdy, 3/8-16 ETC™ spikes, which can be used to fine tune vertical wave launch, enhance stability on thick carpets, and create tighter coupling between speaker and floor to provide a tighter and detailed bass performance. Each spike is conveniently covered by removable rubber end caps if you prefer not to use spikes.
ElectroMotion ESL X Specifications
Specifications are subject to change without notice
Frequency Response
41–22,000 Hz ±3dB
Horizontal Dispersion
30°
Vertical Dispersion
40″ (101.6cm) line source
High Frequency Transducer
XStat™ CLS™ electrostaic transducer
» Panel Dimensions
40″ x 8.6″ (102 x 22cm)
» Radiating Area
344 in² (2,244 cm² )
Low Frequency Transducer
Two 8" (20.3 cm) high excursion, high-rigidity paper cones with extended throw driver assembly, non-resonance asymmetrical chamber format, bass reflex
Sensitivity
91 dB/2.83 volts/meter
Impedance
6 Ohms, 1.6 @ 20kHz Compatible with 4, 6, or 8 Ohm rated amplifiers.
Recommended Amplifier Power
20—400 watts per channel
Crossover Frequency
400Hz
Components
Custom-wound audio transformer, air core coils, large steel laminate inductors, polyester capacitors, and low DF electrolytic capacitors
Inputs
Custom 5-way bi-wire tool-less binding posts
Weight
52 lbs. (23.6 kg)
Dimensions
59.2″ x 9.4″ x 20.7 "
(150.3cm x 23.8cm x 52.6cm)